Our annual beach sculpture festival, now in its 15th year, began at beautiful Caswell beach on the Gower Peninsula which was the first designated Area of Outstanding Natural Beauty in 1956. This was was awarded for its fantastic coastal scenery, its history and culture which is totally unique. Caswell beach holds both a Blue Flag and Seaside Award, achieved in part with environmental education activities such as our annual sculpture festival.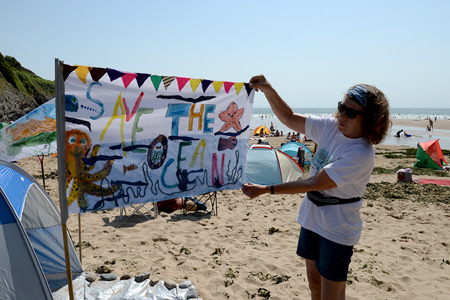 The lovely marine conservation themed flags were created in a pre-festival workshop with Year 4 and 5 of YGG Llwynderw and adorned each festival site throughout the week.
A steady flow of young people and children turned up to have a go at sculpting the golden sands into marine animals such as this seal with a cheeky expression as seen by these girls earlier in the water!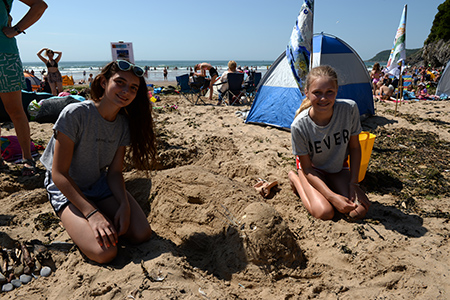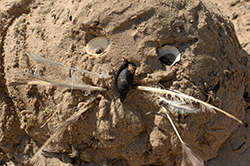 An inquisitive seal!
The different materials that were washed up on the beach that day such as driftwood and seaweed created interesting backgrounds for sea animals such as this large scale sea horse which these young children enjoyed decorating with shells, pebbles and feathers.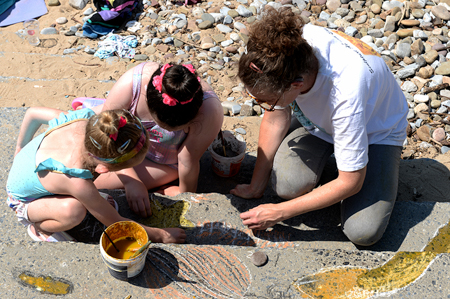 Using the foreshore sea defences to draw and paint images of sea creatures (octopus, jellyfish, crabs and fish.) using natural resources. (charcoal, chalk, turmeric, Bideford black. stone & brick.)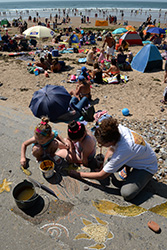 Engagement with nature using natural materials and ideas.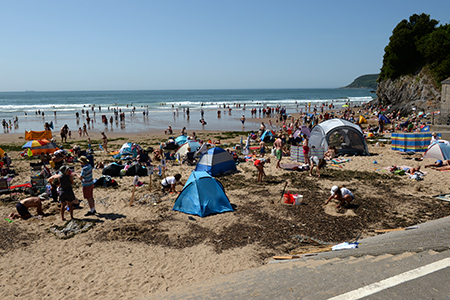 Our popular environmental arts festival was held in a record July heat wave which brought hundreds of extra people to the beach where many joined in making or enjoyed looking at the sculptures. The high tide at 11.00am meant that there wasn't much beach to play with for a while but people enjoyed swimming and surfing in the turquoise waters to cool off in between making the sculptures.
.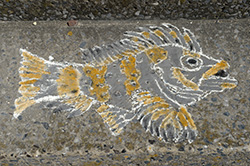 Workshop acitivites on the beach steps were continued as the tide came in where the children had fun learning about and using natural paints such as tumeric and Devon black to paint marine animals.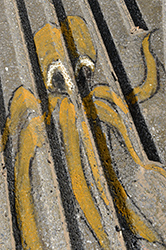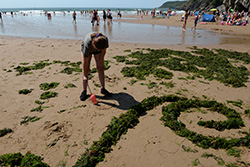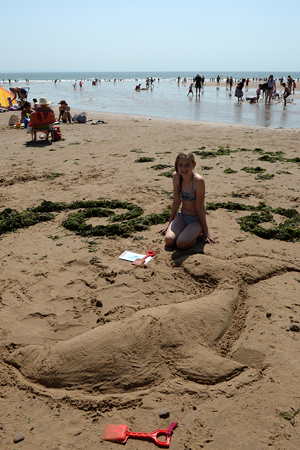 A playful dolphin or harbour porpoise was sculpted from the soft golden sand and surrounded by green seaweed "waves" perfectly finishing the design.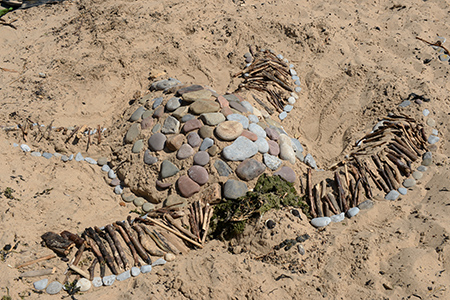 The turtle was made created from a variety of materials found on the beach that day such as sand, pebbles, sticks and seaweed by a family out enjoying the sunshine together.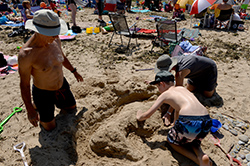 A family carves a seahorse in the soft sands at Caswell Beach and are totally engrossed in the activity amidst the crowds.
Festival summer days
Our Festival begins its creative journey each year at Caswell Beach bringing together all ages to make some beautiful marine animal sculptures. It is an exciting and fun opportunity to take part in art workshops that inform and inspire people about the beach environment, especially in terms of conservation. The Beach Sculpture Festival is a unique event that teaches everyone about the characteristics, habitats and lives of marine animals that live within our waters through the art workshops. By re-creating the animals or birds through the medium of sculpture, a visualisation is achieved revealing the finer details and creating an empathy that brings a special awareness. This environmental awareness helps with the bio-diversity and conservation of species and contributes to action against global warming in our world. During workshops, the artists educate participants about a variety of natural history aspects such as different species indentification and facts whilst teaching them art techniques and skills to create the animal sculptures. People learn how to be more resourceful, imaginative, more considerate and respectful of nature and more creative which also enhances their own personal well-being and sense of achievement.
A wonderful starfish is shaped in sand and decorated with grey smooth round pebbles by this artistic youngster who enjoyed gathering and using them to outline the shape. As well as delighting and inspiring the children with the sculpture acitivites, they also had the opportunity to practice numeric and fine motor skills.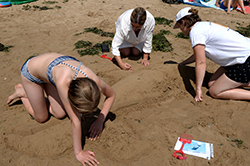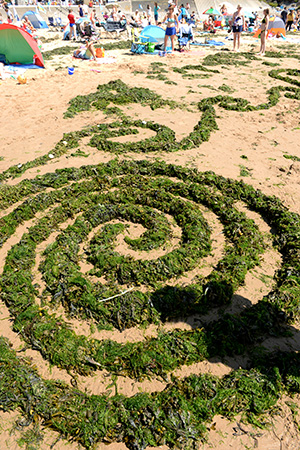 Seaweed spirals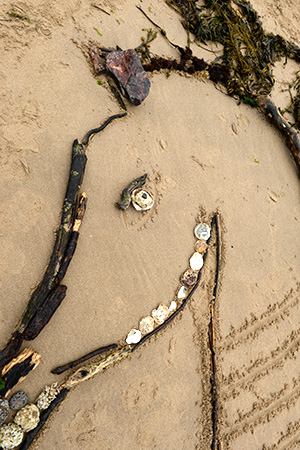 A beautiful Sea horse is created on the beach
from a variety of found objects - see Whitestone Primary photo feature below
SAMPLE OF FESTIVAL MESSAGES FROM PARTICIPANTS
SAMPL O WYBODAETHAU GAN GAN Y CYFRANOGWYR
We had a fantastic time at the festival making a starfish, a turtle and a seal and we were very happy with the results. Our creativity was enhanced - we didn't know where to start making these things but our artist guided us brilliantly. We found out about environmental aspects too whilst we were there about the beach and its marine life. Events like this are very worthwhile as they encourage the children to think about what they can do on the beach besides swimming. Sid, Matilda, Georgina and Karen Curry, Andrew Wilson, Rob John, Jane and John Parsons.
We learnt about different techniques to use when sand sculpting. The Warren family
We made a starfish which we were very happy with . The children really enjoyed it and it gave them lots of ideas for the future. The Clift Family
We made a sea monster and a crab. Our creativity was enhanced by making us think more about detail. I found out about loads of creatures and shells. It was a great experience and next time I will help more with the design too. Alicia Clack
The sea monster and other sculptures Alicia and I made were great and we enjoyed being creative as well as learning about the beach and different shells and animals. It was a very creative way to have fun on the beach. Anastasea Davies-Preston
It was great to discover the festival at Caswell beach. We had an amazing time making a turtle using a variety of materials such as sticks, pebbles, shells and seaweed as well as sand. Fantastic day for our family of different ages! Bridgend family

Prior to our festival in June each year, a series of pre-fest workshops are run for local schools to teach them some techniques and skills encourage them to attend the festival with their families. In contrast to the hot sun of our first festival day a workshop for 70 5-7 years old pupils from Whitestone Primary School was held on a wet and windy day in June at Caswell beach. Pupils created large a scale sea horse, starfish and jelly fish sculpture on the beach using found objects. They were delighted with the outcome and since the visit have attempted to re-create the sculptures in school sand areas on a smaller scale. Afterwards, they looked at the photos of the sculptures and talked about the different materials they had used and any other sea creature sculptures they could create when visiting the beach with our families. See below feature on the day with Whitestone Primary.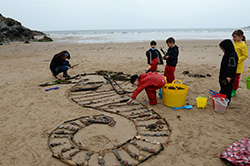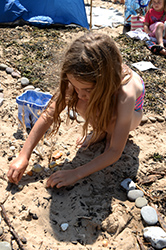 Lots of delight and amazement achieved through new ways to see the world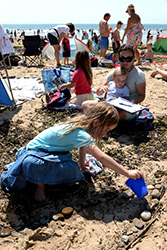 Parents observed their children being engaged in creative activity, learning about ways in which they can amuse their offspring during the summer holidays.
People were very engaged all day and went on to create their own ideas in materials found on the beach. They were very happy to discover the beach through artistic activity and there was lots of discussion about what was found on the beach such as shells, etc.
To see day 2 of 2019 Festival at Oxwich Beach- click the link at the bottom of this page.

I weld gwyliau dydd 2 o 2019 yng Nghartref Oxwich- cliciwch ar y ddolen ar waelod y dudalen hon